Will this be the year that you finally get rid of that old, cracked or crumbling concrete patio? Tearing up a concrete patio and replacing it with durable, versatile Borgert Products pavers is a great way to update the look and feel of your yard, as well add visual appeal and value to your home.
Tearing up a concrete patio seems daunting, but it doesn't have to be. With the right equipment (or a good contractor), it can be done quickly and easily. Read on for tips from the experts at Houzz.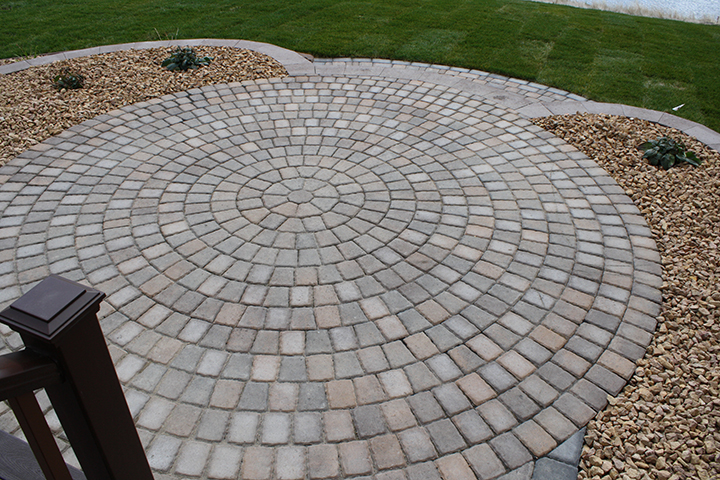 The Details:
Typical project length: one day
Project considerations: Utilities should be contacted to ensure that there aren't any gas lines beneath the patio. The project will probably be noisy, so it's a good idea to give neighbors a heads-up.
Permit required: Typically no permit will be required for the demolition, but it's a good idea to check with the city just in case.
The Process:
Before beginning demolition, place plywood over nearby windows, in case pieces of concrete spray and crack or break the glass.
Next, begin removing the concrete! If you're not removing the entire patio but just reducing its size, use a concrete cutting saw to cut concrete joints out. If you're taking out the whole patio, use the saw and a jackhammer to break the concrete into chunks that can be manually removed. Check with your municipality for guidelines on how to dispose of old concrete, or repurpose it somewhere else in your outdoor space, such as a stacked garden wall.
Finally, replace that old outdated patio with beautiful and durable Borgert pavers! Check out our galleries for patio inspiration, or request a catalog!
Borgert is a Minnesota-based, family-owned company specializing in pavers, patios, driveways and retaining walls. Since 1923, we have been committed to providing high quality products that help our customers dream landscapes become a reality. Get a quote today on your Borgert products.