If you've browsed Pinterest or Houzz for patio inspiration, you've probably seen a lot of images of big, beautiful patios, with a fireplace, large grill, lounge seating and a table for 10. But what if you, like many of us, simply don't have that kind of space? Smaller patios can still be a comfortable, lovely space to enjoy the warm months. It just may take a bit more creativity.
We'll share some of our favorite ideas from Houzz. We'd love to see your smaller patios – share ideas and photos on our Facebook page!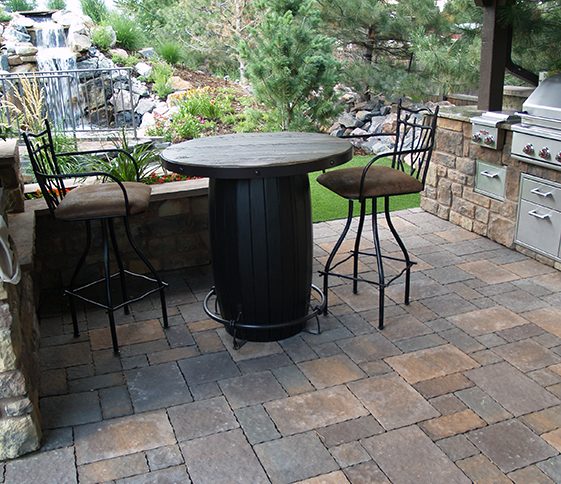 Use Built-Ins
Turn a wall into a bench to add seating without taking up extra space.
Create Continuity
Using the same pavers on the patio and surrounding spaces (i.e. walkways and steps) will avoid visual disruption, making the patio appear larger than it actually is.
Add Landscape Lighting
Lighting can make a huge difference in the atmosphere of a patio. Use lanterns and stakes at ground level to create ambience without taking up much space.
Scale Furniture Appropriately
If you have a long, narrow patio, choose a table with the same dimensions. You could also push the table against one wall to add space, pulling it out only when you have a larger number of dinner guests.
Consider Café Furniture
A bistro table and chairs won't take up visual space on a patio, and is easy to fold up and put away when not in use.
Go Vertical
Add greenery without sacrificing space by choosing climbing plants and trellises.
Add Color
Brightly-colored plants, furniture and furnishings will give your patio a unique, sophisticated flair, no matter its size.
Ready to upgrade your patio? Visit our product gallery to find the best pavers for your small patio!
Borgert is a Minnesota-based, family-owned company specializing in pavers, patios, driveways and retaining walls. Since 1923, we have been committed to providing high quality products that help our customers dream landscapes become a reality. Get a quote today on your Borgert products.