Many think of pavers and pavement products as designed only for patios, walkways and steps. But that's far from the case. There are several lesser-known applications for Borgert pavements in private and commercial spaces. And by using our versatile, durable products, you can create a space that is unique in appearance and easy to maintain. We'll discuss a few practical applications for Borgert pavements below, and make sure to visit our project galleries for more ideas and inspiration!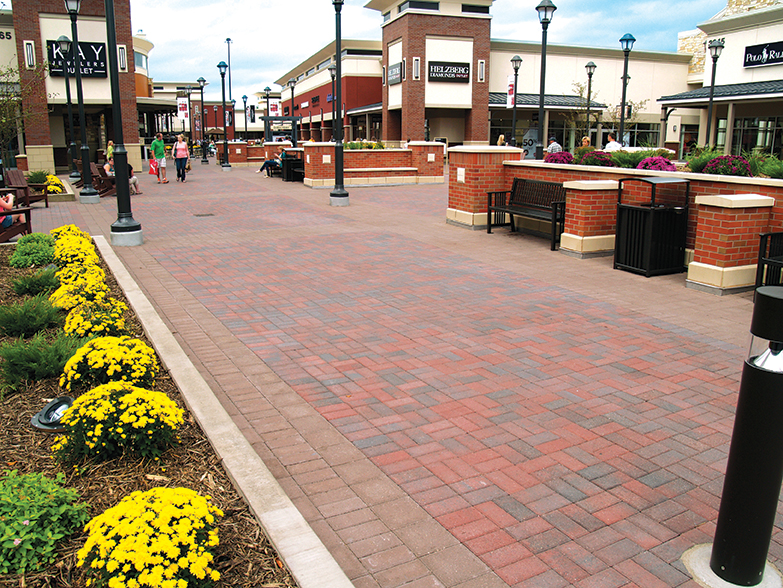 Streets
If you're in a cold climate, you know that spring means potholes. The many freeze-thaw cycles that occur throughout the winter weaken asphalt and cause holes to form. This is not the case when streets are surfaced using pavers. Borgert pavements are flexible to withstand freeze-thaw cycles, and any pavers that do crack or break can be replaced quickly, easily and affordably.
In addition to the practical benefits, there are aesthetic advantages as well. Create a unique, beautiful space, using pavers instead of paint to delineate lines and spaces. The options are endless!
Public Spaces
Using pavers in public spaces allows for the creation of unique spaces that can be customized to fit a business or community. Apply pavers in patterns to create a one-of-a-kind design. Our pavements are made to meet the high standards of architects and designers, creating durable and enduring public spaces.
Plazas and Entryways
Create a memorable first impression and elevate the visitor experience with a unique and easily-identifiable entryway or plaza. Our wide selection allows you to complement existing styles with matching colors and designs.
Universities
Use different colors and textures to create unity, consistency and visual appeal throughout campus, increasing aesthetic value while lowering maintenance costs. Pavers can be used to delineate spaces or create designs, creating distinction among departments while maintaining unity.
Ready to discuss pavement options for your commercial project? Give us a call.
Borgert is a family-owned company specializing in pavers, patios, driveways and retaining walls. We are based in Minneapolis and serve the entire Twin Cities metro area and beyond. Since 1923, we have been committed to providing high quality products that help our customers dream landscapes become a reality. Get a quote today on your Borgert products.